Highlights of the month
Monday
Tuesday
webnesday
thursday
Friday
Saturday
Sunday
Gili Goes Freediving

Photo Moments with Gili Memories Studio

10th Anniversary

World Environment Day & World Oceans Day

Dale Pinnock – The Medicinal Chef

Gili Celebrates Movember

Gili Goes Pink October 2022

Hari's Super Food

Destination Drinking

Sleep under the stars

Dining for the senses

Valentine's Day

Australian Gold Brasil Botanic Sunscreen

Gili Candy Cane Hunt

Organic wines for a healthier you

Countdown to a Festive Reunion

Gili Five Elements New Year's Eve Dinner

Sunset Fishing

New Year's Day Brunch

Traditional Festive Market Dinner

Family Christmas Wine Tasting

Christmas Coral Line

Exclusive Stonefish Wine Dinner

Gili Castaway Private Sunset Experience

Meera Pink October

Gili Plant-based Dining Experience in Organic Garden

Tennis Class with a pro

Tennis Class with a pro

World Environment Day

World Oceans Day

Happy Mother's Day Specials

Turtle Snorkel

Tennis Class with a Pro

THE VALLEY OF THE KING DINNER : LANGLOIS-CHATEAU WINE EVENT

Earth Hour 2018: A day for coral conservation

Paddle Against Plastic

Earth Hour 2018

Gili Cheese Experience

Rupert & Rothschild Vignerons Wine Dinner

Full Moon Dinner

Chocolate and Wine Tasting

SUNSET DOLPHIN CRUISE

Wine Dinner Experience

Surfing with Tropicsurf

Ryko Kalinko

Aaron Bullington

Paween Nuch Soisongsee (Noom)

Tennis Class with a Pro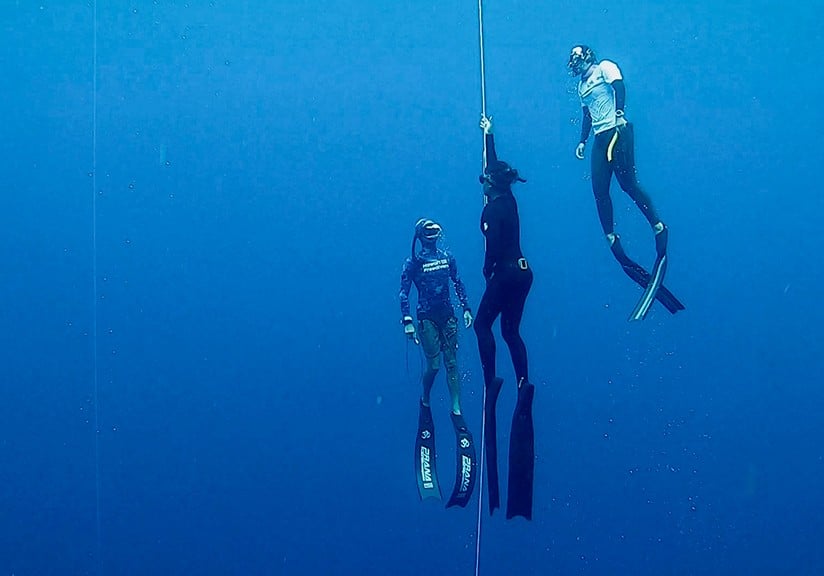 EXPERIENCE
Gili Goes Freediving
From 7th October 2022 to 18th November 2022
Master the art of freediving with Eline Postma, our resident freediving instructor. Learn how to hold your breath longer, and explore the ocean in the purest form. Discover how freediving can boost your confidence in the water, and help you find stillness within.
All freediving introductions and courses are taught under the Molchanovs freediving education system.
Introduction To Freediving – USD 390*
Half day (3.5 hrs)
Interested in freediving, and feeling the desire to challenge yourself? But don't have enough time for a full course? Learn about breathing techniques and the physiology of freediving before jumping in the ocean and exploring the house reef in the purest form. (No certification).
Freediving Intensive – USD 790*
2 days (10:00 – 16:30)
Learn the art of freediving and become certified in just two days! Discover breathing techniques to help you feel more comfortable in the water and explore the ocean in the most natural way.
Freediving Full Experience – USD 950*
3 days (07:00 – 16:30)
Go on a journey within yourself through the art of freediving. Learn relaxation techniques based on mindfulness that can improve your mental state both in and out of the water. Become a well-rounded certified freediver and discover that you are capable of more than you think!
*Prices are subjected to service charge and government taxes