Arrive as a guest, leave as a friend, and return as family. We go above and beyond to exceed expectations and personalize every encounter, allowing our cherished guests to make the most of their precious time here.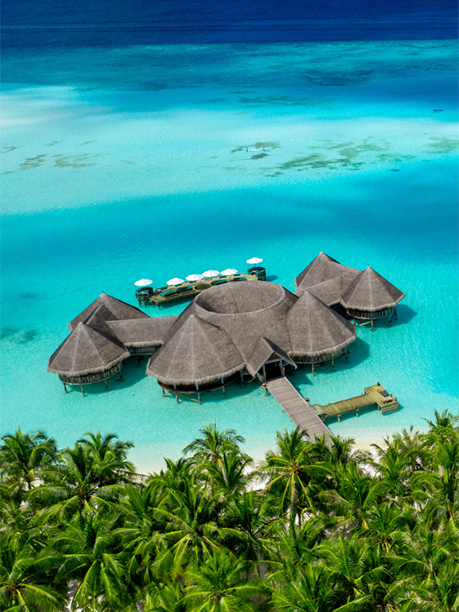 Slow down, breathe deeper, and slip into our island's easy rhythms. Surrounded by turquoise seas and the warming sun, our guests rediscover the luxury of disconnecting and rekindling with loved ones.
Luxury your own way, at your own pace.
When it comes to luxury, there's no such thing as one size fits all. That's why we give our guests the freedom to design their dream getaway, whether they seek quality time with family, an escape from reality, or a thrilling range of aquatic adventures.
We are environmental stewards who take great strides to protect our rich marine diversity—and safeguard our island for future generations. We empower our guests to reconnect with the natural world and rediscover the joy of being in nature.
Built with the sensitivity of our surroundings in mind, our villas are constructed out of responsibly sourced local materials like teak, palm wood, bamboo, and palm fronds that were harvested during the island's rehabilitation process. Rooms feature organic toiletries in refillable earthenware containers to minimize plastic usage and waste, and a dedicated desalination plant is the source of still and sparkling water for all guests. Energy efficiency is top of mind; we're always identifying ways to cut back our fuel consumption.

By sourcing ingredients locally, including pole-caught seafood and vegetables from our organic vegetable garden, we do our part to reduce our footprint and serve the freshest, most nutritious fare. Interested guests can get involved by signing up for coral cleaning adventures, collect underwater data leading scientific organizations like Manta Trust, and other environmental initiatives.
To hold ourselves accountable, we've partnered with EarthCheck, the leading certification program used by the tourism industry. Yearly assessments allow us to uphold the most up-to-date sustainability standards, reduce our impact on the environment, and achieve international best practices.

In 2019, we became one of the first resorts to pledge to protect our seagrass as part of the Protect Maldives Seagrass movement. A critical habitat for fish, nudibranchs, turtles and echinoderms to mate, nest, feed and grow, we monitor the health of our seagrass beds throughout the seasons.
Plan your visit
No two days are alike at Gili Lankanfushi, where every moment is a unique experience of adventure, culinary delights, wellness, and breathtake scenery that will rejuvenate your mind and soul. Arrive with no plans or start planning your dream escape now, as our dedicated team is ready to help you make unforgettable memories.
Stay with us
Whether you are looking for an unforgettable tropical getaway with the family, or to disappear from the world with a private island experience, where you stay matters.