Coral Line Project Findings 2018
Our 2018 Coral Line update brings together different success stories, in the form of expanding the nursery, creating a workshop, and most importantly seeing a steady survival rate of our coral fragments.
IMPROVEMENTS
After four years, the Coral Lines Project was in need of expansion. Therefore, in May 2018 we added six new metal frames alongside the existing nursery.  This will allow us to continue the project into the future without the limitation of space.  We have phased out the use of plastic cable ties and now attach the lines to the frames by tying the end of the rope to each frame. We also up-graded the project by retagging all 204 lines to ensure identification is up to date. During this process, we removed all coral lines with no living colonies. Now we will have a much clearer view of the project into the future.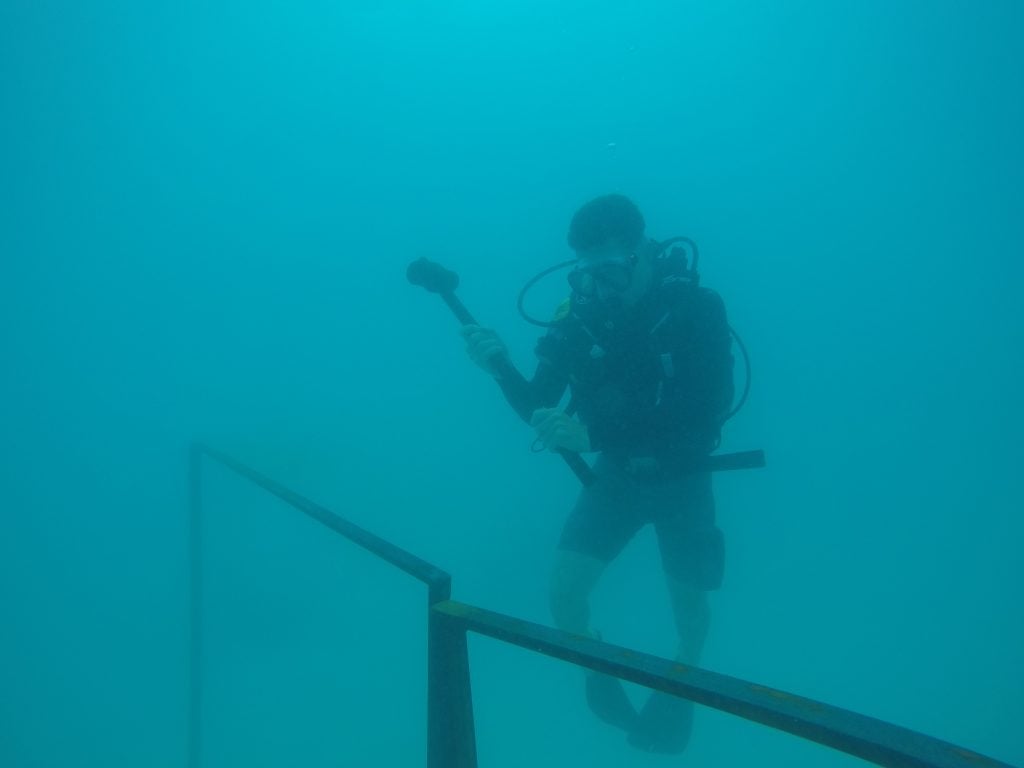 In March 2018, the Marine Biology team conducted training on how to implement and manage a coral line project. We invited interested researchers from resorts and local islands to Gili Lankanfushi to participate in a Coral Line Workshop.  The full day tutorial taught others to create their own project using a step-by-step process.  Some of the Workshop attendees have now begun their own coral rehabilitation projects on local islands.
From November 2017, we began a coral recruitment project which will measure the coral larvae settlement and survival. This project is ongoing today with results expected in three months.
Finally, in February 2018, we moved our Marine Biology blog and Coral Lines blog onto the Gili Lankanfushi Resort official website so it is more easily accessed by our guests and interested readers. As of June 2017, this blog is now published by PADI and reaches five million readers.
SURVIVAL
We have planted 204 lines in the nursery over a four year period and after a recent survey of re-tagging and removing dead coral lines we have found that 158 lines still remain in the nursery. Out of the 9928 colonies planted, 6713 remain alive.
There has been a steady increase in colonies added to the project with an overall survival rate of 68% which remains the same as our findings in May 2017.  The rate of survival is less than pre-bleaching in 2016.  However, it far exceeds the survival rate of coral on the house reef which was found to be between 5% – 10% after a recent coral cover survey.
GROWTH RATE
Every three months after planting a line, we measure the widest point of the coral fragments to determine growth rate and note the fragments survival level. We measure each line for a period of one year.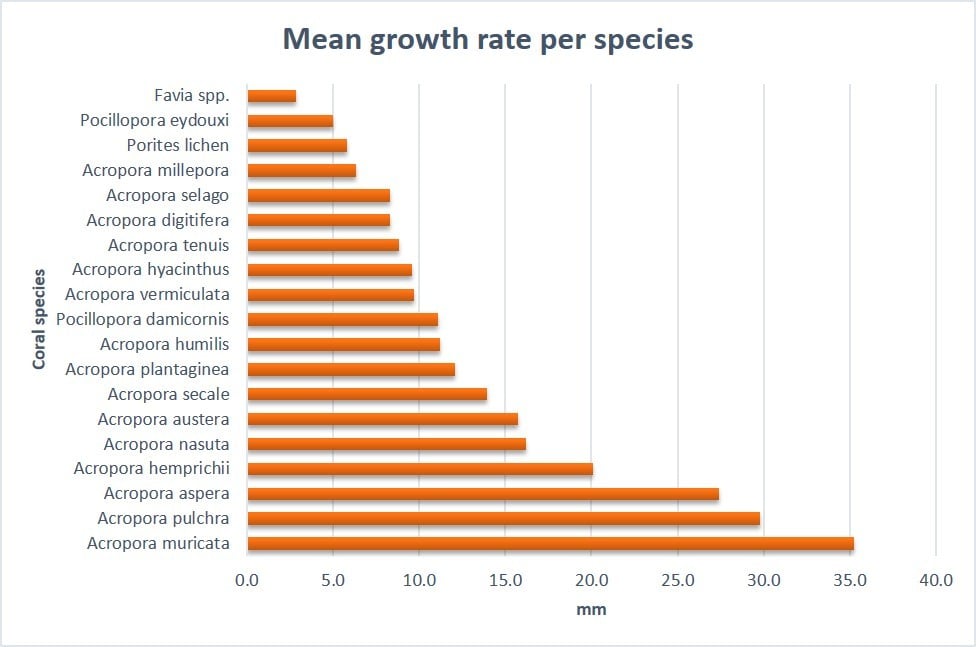 The species found to be most resilient post bleaching were A.aspera, A. pulchra and A.muricata. Although P.lichen does not show a huge increase in growth it has a high survival rate. Whereas, A. digitifera has a particularly high mortality rate (90%) and we have consequently not planted any more of these.
GROWTH FORMS
Species of coral can more simply be grouped into 'growth forms'. We are mostly using bushy and digitate species as these are the growth forms that have survived best on the lines.
We have an abundance of Porites lichen on the house reef which we have just started using on our lines when it is broken off in storms.  This accounts for a 2% increase in submassive form 4% in 2017 to 6% in 2018.
TRANSPLANTATION
In June 2017, we transplanted 15 fragments of A.humilis onto our house reef.  It was our biggest transplantation post bleaching.  The line survived for around two months but bleached due to predation despite our attempts to remove all coral predators.
Due to the fragility of coral, our rehabilitation plans are very flexible, and subject to a long monitoring period.  We adapt our approach and long term management to ensure we keep up with the changing environment of the reef. So far in 2018, the ocean surface temperature has not been stable enough to transplant our lines on the reef but we will continue monitoring the situation.
FUTURE PLANS
Many of our lines are so large and heavy after four years of growth that we have had to hang the lines over the frames in order to keep them off the floor.  In these cases, we would like the lines to hang from frame to frame and therefore we plan to attach flotation devices at intervals along the line to reduce the total overall weight.