The Heat Is On: Sea Turtles Are Becoming Mostly Female Due To The Earth's Warming Climate
Some of the more charismatic inhabitants of the reef here at Gili Lankanfushi are the Turtles, and we do our best to help them thrive.
In fact, our resident Hawksbill Turtle, the aptly named 'Gili', was initially found here in critical condition, but was rescued by our marine biology team who sent her straight to the Four Seasons Rehabilitation Centre for recovery. Of all the threats posed to these animals; poaching, entanglement in fishing gear, plastic and other marine debris, and ocean pollution – There is one issue you may not be aware of: Climate change is turning Sea Turtles female.
As reported by Sarah Kaplan for The Washington post, scientists in the 1980s accidently discovered that temperature can determine the sex of Turtles. The team were attempting to aid a population of sea Turtles by rescuing eggs from vulnerable beaches and keeping them warm in incubators until they were ready to hatch. To their surprise almost all the hatchlings were male. What these scientists observed was "Temperature-dependent sex determination (TSD)", a phenomenon that occurs only in reptiles (and some fish).
At what biologists call the 'pivot temperature' (roughly 29 oC for Green Turtles), nests will produce equal amounts of males and females. A little warmer and embryos develop as females, but keep the eggs just a few degrees cooler (like the scientists did with their incubators) and they'll come out mostly male.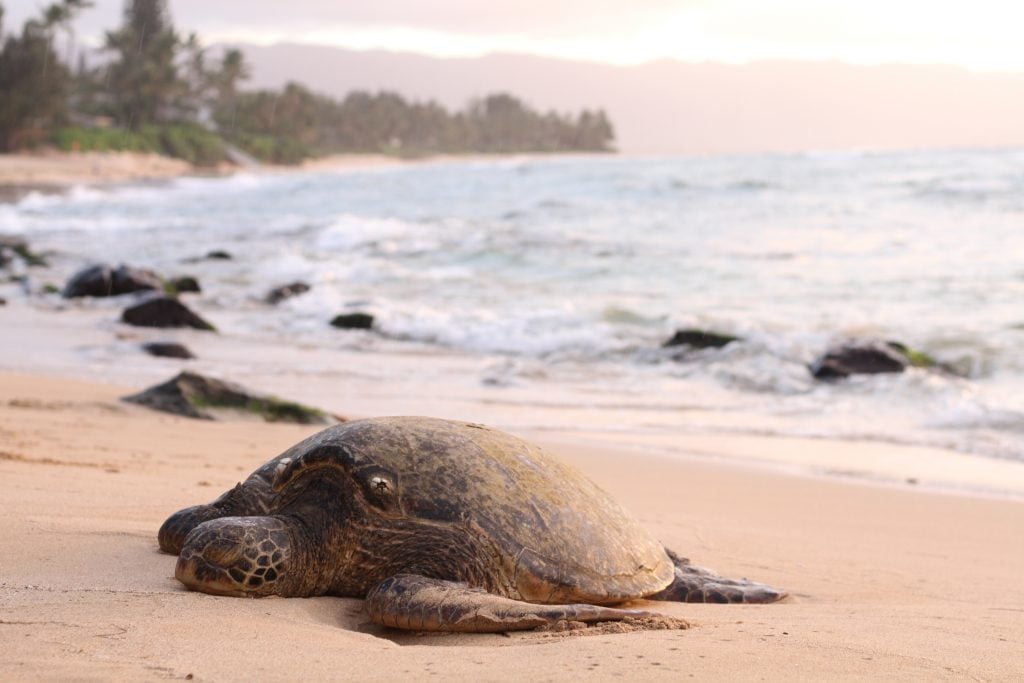 Turtles tend to target their breeding periods to times when the sand is slightly warmer than their pivot temperatures, resulting in populations moderately skewed towards female, but a recent study conducted around Australia's Great Barrier Reef found that the populations are becoming more than moderately skewed. On the warmer nesting sites 99.1% of juvenile Green Turtles were female, as were 86.8% of adults, suggesting that there has been a shift in gender ratios over the last few decades.
Scientific evidence for warming of the climate system is unequivocal
-Intergovernmental Panel on Climate Change
Global warming is rapidly emerging as a universal threat to ecological integrity and function, say scientists studying coral reef assemblages. In species with temperature-dependent sex determination the impacts of rising temperature are particularly pertinent. At the key breeding grounds of many Sea Turtle populations the sand has warmed significantly since the 1990's and researchers say that this almost certainly accounts for the dramatic decrease in the number of males. Since turtles will often return to the same beaches where they were born to lay their own eggs, this cycle will likely continue; and with global temperatures continuing to rise, many Sea Turtle populations are in danger of high egg mortality and female-only offspring production.
"Finding that there are next to no males among young Northern Green Turtles should ring alarm bells, but all is not lost for this important population."
– WWF Australia CEO Dermot O'Gorman
The good news is that management strategies are possible. Options include shading beaches or using artificial rain to cool the beach. Protecting some of the big breeding males from threats such as poaching and entanglement is also going to be of particular importance.
Of the seven species of sea Turtles in the world, five species have been recorded in the Maldives and some species are known to nest here: The Green Turtle (Chelonia mydas), Hawksbill Turtle (Eretmochelys imbricata), Olive Ridley Turtle (Lepidochelys olivacea), Loggerhead Turtle (Caretta caretta) and Leatherback Turtle (Dermachelys coriacea). The Maldivian archipelago clearly serves as an important habitat for Sea Turtles, and here at Gili Lankanfushi we strive to help maintain that habitat by educating our guests about the negative effects of global warming; reducing the amount of harmful marine debris entering the ocean and growing our seagrass beds that act as a carbon sink and produce food for our sea turtle population.
So, what can you do to help mitigate climate change? Start by finding ways to reduce your carbon footprint; embrace a minimalist lifestyle, walk instead of drive, [a comprehensive list of ways to reduce your carbon footprint can be found here and here] and support only the large companies that are reducing theirs too.