The poisonous pufferfish: Their true story
A floating ball of spines drifts past. This ball of spines is actually the most poisonous fish in the world and is responsible for multiple human fatalities every year. But what are the facts? Should you be worried? No!
Pufferfish are a diverse family of fish. They are found worldwide and have over 100 species. Although some species have adapted to live in brackish and freshwater the majority are encountered around the tropics and subtropical ocean waters. In the Maldives we have 5 genera and 18 species. They have a distinctive appearance with their long tapered body and large round head. These pufferfish can range from two centimetres long to almost one metre. In the Maldives the largest pufferfish is the Starry Pufferfish which grows to almost one metre and the smallest is the White-spotted Pufferfish which is around eight centimetres. Pufferfish are mostly bottom dwelling, inhabiting either reefs or sanding flats. Larvae are pelagic and a few species are completely pelagic.
In the Maldives we also have four species of porcupinefish which are in a different family to pufferfish – they belong to the Diodontidae family. They are very similar to pufferfish; the defining difference is that the porcupinefish's body is covered in visible sharp spines that become upright when inflated. Pufferfish spines are not so visible prior to inflation. Porcupinefish in the Maldives are uncommon and are encountered individually. During the day they take shelter at depth, at night they become more active. Sometimes large porcupinefish can be found hovering around shallow reefs during the day – the reason behind this is currently unknown.
Whilst some pufferfish species have distinguishing bright markings over their bodies to show off their toxicity, for example the Saddled Pufferfish others camouflage themselves to match their surroundings. They are a scale-less fish with rough or spiky skin, beady eyes and all four teeth are fused together to form a beak. Big pufferfish use their beak to crack open and consume clams, mussels and shellfish. Smaller pufferfish prefer algae and smaller invertebrates.
Most pufferfish are highly toxic due to containing a toxin called tetrodotoxin. The fish obtain this poison from vibrio bacteria which is found in the animals they eat, specifically from eating starfish and turban shell. Tetrodotoxin is a neurotoxin which is flavorless, odorless, heat stable and causes nerve paralysis. The location of the poison changes between species and is generally found in the liver and ovaries. To humans this poison is 1,200 times more poisonous than cyanide and there is enough poison in one pufferfish to kill 30 people. Additionally there is no known antidote. It is believed that pufferfish underwent a spontaneous mutation that caused structural changes in the fish allowing them to incorporate this bacteria containing the lethal toxin in their bodies to their advantage. Sharks are the only known animal to be immune to pufferfish poison. Although the toxin will kill, current research is testing whether low doses have medical benefits. Studies show that the toxin may relieve pain particularly with cancer patients. This could be an alternative to opiate use and it has also been shown to reduce opiate withdrawal pain.
Even though it is well known that pufferfish are highly poisonous and can kill it doesn't stop people eating them! Pufferfish is popular to eat steamed, roasted, in broth or hot pot and as sashimi. In Japan and Korea it is considered a delicacy. A pufferfish dish, called Fugu which means swell up has been eaten in Japan for over 2000 years, although during this time there have been restrictions. For example, in the 16th century Japan's supreme war lord ordered that the eating of Fugu was illegal. This was in response to some of his troops dying after eating Fugu whilst he was rallying them to invade the Korean Peninsula. Whilst some people continued to eat Fugu in secret prohibition did not end until 1887 when Japan's first prime minister went to a restaurant. The local fisherman had not caught anything and only Fugu was available – the prime minister was served it and he loved it. The year after this the ban was lifted in that region. Other regions shortly followed.
In Japan there are now 22 different species that have been approved to eat. To serve pufferfish the chef must have a certification. Training for this certification takes seven to ten years and includes a written examination, together with the chef being able to gut and remove the poisonous parts of the fish within 20 minutes. Two types of pufferfish are very popular: Torafugu (luxury option) and Mafugu (cheaper alternative). Typically one kilo of Torafugu costs $200USD.
The process of toxin removal has improved over time with it now being possible to completely remove the poison from the ovaries of fish. The ovaries are pickled for one year in salt and then for a further two years in rice bran. During the pickling process fermented sardine extract is poured over the ovaries to mature them. This removes the poison and delivers flavour. The science behind this process is unknown and only a few places are permitted to produce it. Additionally in some aquaculture facilities poison free pufferfish are being bred. They are bred in sterile environments where no vibrio bacteria are present. Theoretically the pufferfish should not be able to store the poison because there is no poison in their diet. These facilities are focusing their research on the liver. They have sampled 4000 fish livers over a nine year period and none of these fish were found to have the toxin. Now in special places poison free liver can be eaten and it is said to be very tasty.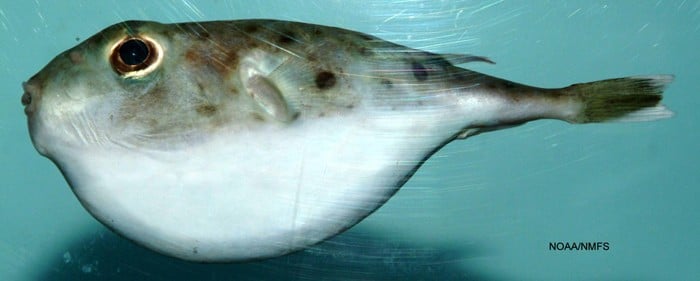 The poison is a major deterrent for predators, but this is not the pufferfish's only defense. When the pufferfish is threatened they can inflate by 40% making them harder to eat since they become a large stiff ball. For a mature fish this process takes around 15 seconds. Inflation is as a result of the fish unhinging their jaw and rapidly gulping large amounts of water (or air if the fish is out of the water) which causes their body to expand/puff up. The ability to inflate is mainly due to the pufferfish having an elastic stomach – the stomach has a special large and folded lining which allows it to expand and accommodate a large volume of air or water. The pufferfish's skin also has collagen fibers which allows it to stretch and not break. Additionally most pufferfish lack some ribs and have no pelvis which allows them to become a ball shape. It takes the pufferfish around six hours to return to normal size and during this time they are vulnerable due to their increased size and lack of mobility. The process of puffing up is also very exhausting and can be damaging to the fish. For these reasons it is important that divers and snorkelers are respectful of pufferfish and avoid triggering their inflation by scaring or antagonizing them.
We have a variety of pufferfish that can be seen around Gili Lankanfushi. So next time you're here grab your snorkel and camera and take a look